Taiwan is a relatively small and inward looking country, this lack of scale and exposure to modern practices has led to a relatively poor Search Engine Optimisation (SEO) environment. In short, many SEO services offered in Taiwan are not great. In some cases there is a mistaken impression that Google Adwords and SEO are the same thing, and some SEO companies in Taiwan still use outdated keyword stuffing and bulk link-building strategies that risk long-term Google penalties.
It's not all bad news though! This situation creates opportunity for those who do SEO right!
Keyword Difficulty in Taiwan
Keyword Difficulty (KD) is a measure of how difficult it is to get a website to rank on the first page of Google for a given keyword. KD takes into account the SEO strength and quality of content in the sites that are already ranking for that keyword, so when aggregated across many keywords, KD can give us an indication of the SEO strength in a specific market.
We analysed the KD of the top ranking websites in Taiwan, USA, France, Italy and the UK across a number of industries, using a keyword that was adjusted for local language.
The results show how websites in Taiwan are much weaker than those of other countries.
Keyword difficulty
Keyword/Country
UK
USA
Italy
France
Taiwan
KW Weakness

Tw/Other countries

Car Insurance
62
73
25
47
6
12%
Flower Delivery
56
35
28
68
12
26%
Shoes
25
54
8
28
2
7%
Laptop
45
58
65
80
48
77%
Engagement Rings
19
49
2
5
1
5%
Used cars
22
37
9
22
23
102%
Scholarships
74
90
1
1
1
2%
Watch
61
74
12
12
0
1%
Sunglasses
31
50
12
13
1
4%
Drone
57
47
14
27
1
3%
Taiwan is a smaller market, so you would expect KD to be less, right? Well, yes, but the market is not that much smaller, and the price of goods and services are pretty much equal with the comparison countries. Therefore, we believe that in general, SEO represents a good investment in Taiwan.
Search Engines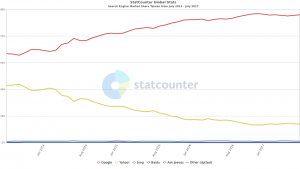 Google has slowly but steadily risen to become the main search engine in Taiwan, with close to 90% of the search market. The gradual shift from Yahoo to Google can be attributed to two major factors.
Design – Yahoo is cluttered and busy, Google is clean and simple. This reflects a growing trend in Taiwan for modern webdesign practices.
Quality – The quality of Google's search results are, in our humble opinion, just that bit better.
So does that mean that Google works exactly the same in Taiwan as other countries? Well, it's hard to say exactly. However, there is evidence to suggest that Google is slightly more lenient towards Black Hat techniques in less competitive markets. We don't advise that you jump on the Black Hat Train just yet though! All it takes is for Google to update their algorithm in Taiwan and sites that have previously used Black Hat SEO will be penalised.
How to localize SEO in Taiwan
So, how do we build our clients' websites DA (with White Hat techniques), and how do we teach Google that your business is focusing on Taiwan?
Keywords
Traditional Chinese (繁體中文) is used in Taiwan, Hong Kong and Macau only. This means that, regardless of localisation, you are only competing with websites from these countries.
When doing keyword research, many people's first step is Google's Adwords Planner. This is a great tool and it works just fine in Taiwan. You can set the region to Taiwan and the Language to All Languages to get started.

Hitting 'Advanced Search' in the Location pop-up will allow you to hone right in on keywords being searched for in specific regions of Taiwan. For example Zhongli or Keelung.

Once you've settled on the location you want to focus on, you can then use your initial seed keyword to come up with some other keyword ideas that are relevant.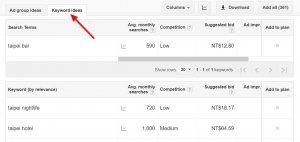 After that you can then use one of the paid SEO tools like MOZ to determine Keyword Difficulty or KD for each keyword. KD shows you how difficult it will be to rank on the first page of Google for a particular keyword. Be aware though, many of these tools don't work very well in Taiwan, some because they struggle with the Chinese language set, and some because they don't have Taiwan listed as a region.
We love a good NAP!
No, we're not talking about the Taiwanese habit of taking a short lunchtime nap, in SEO, NAP refers to your Name, Address and Phone number.
The important thing here is that these are consistent, clear and accurate. This may sound simple, but there's more to it than that.
Firstly, you need to make sure that on your website, your NAP is clearly marked (the footer is a good place to start), and following the schema.org guidelines for local businesses.
We'd hope that your business has been mentioned in many places across the internet, perhaps on business directories or other local sites. In this case, while it's more of a challenge to manage the consistency of your NAP on external sites, this is a strong indicator to Google and well worth spending time on.
In Taiwan, another challenge in managing the consistency of NAP is that there are many different ways of spelling Chinese words in English. Some people use the Wade-Giles system, others just make it up. For example, 淡水 is (currently) spelled as 'Tamsui' on Google Maps, despite many businesses still referring to it as (the more phonetically correct) Danshuei.
The Fullon Dansuei Hotel is a great example!
Another thing to bear in mind is how you arrange your street address in Chinese and English. In Chinese you begin with the country and end with the street number, English is the other way around.
Google My Business
Google provides this as a free service, and it is especially helpful for local businesses. Head over and set yourself up as soon as you can. It's an extremely painless process and will help Google to understand more about your services and where you operate, which in turn will help potential customers to find you easier online.
Before you register yourself, spend a few minutes to make sure that you've not already been listed. If you have, there is a fairly simple process so that you can claim ownership of your listing. Don't be tempted to ignore a previous listing and set up a new duplicate one – this will confuse things for Google and your customers, not a good thing.
Remember that everything you add is visible online, so make sure you are proud of it! Upload some good quality images of your business, your products and your services. Write a good, compelling description and think about your target audience – are you writing Traditional Chinese for local Taiwanese, or English for expats?
Local Reviews
Once you're set up on Google My Business, you can start to gather reviews that will be visible in search results. Google reviews can help you both to build trust and improve your rankings.
90% of customers report that they are influenced by positive reviews. This is a massive number and not something to be ignored.
Aside from the trust factor, there is growing evidence that having positive, local reviews on Google will help your business to show up in the map section for search results.
Which Taipei bar would you choose for a night out?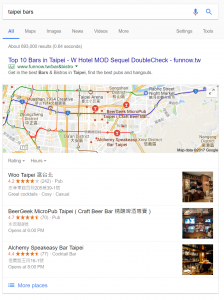 Google wants you to encourage your customers to go ahead and give reviews. So go for it! You might prompt people in email footers, on your website, or even (shock horror) face to face. Don't ever be tempted to pay for fake reviews.
Blogging goes Local
We've discussed already that content is king, but how do you go about local content marketing? Simply stuffing local keywords into existing articles just isn't going to cut it I'm afraid.
Content marketing is all about becoming a thought leader in something, and surprise surprise, local content marketing is the same. Get creative with your blog, taking your specific niche and talking about any local events, news, challenges etc that are relevant.
For example you might attend an event at Taipei's Nangang exhibition centre – blog about it! Take some photos of yourself there and share with others how you think it might be useful for them and the rest of the Taipei community. Add local value to your readers.
Local Link Building
We talked previously about Domain Authority (DA). DA is a measure of a website's trust, and is built by other websites linking to yours. The rationale is that a website must trust you to link to you.
In the current SEO environment, quality of links is far more important than quantity. Quality refers to two things, the DA of the site that is linking to you, and its relevance to your business.
So for localising SEO in Taiwan, the ideal link to acquire would be from a Taiwanese site with high DA that is also relevant to your industry. Links like this are likely to bring real customers to your site, so we like to think about modern link building as online PR.
Getting started, you might want to list your business on a few local Taiwanese business directories. Some examples, along with their DA and monthly traffic can be found below.


Blogger outreach can be a viable form of link building. You might be able to write a guest post in exchange for a link. Or a blogger might just mention you if they feel you can add real value to their readers. Consider exclusive offers for their readers which can sweeten the deal.
Here's a few examples of popular blogs in Taiwan, again with their DA and monthly traffic.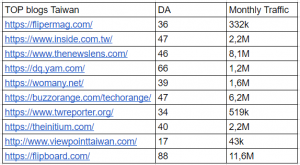 What's Next?
SEO is a very cost-effective way for you to get momentum for your business in Taiwan. If you are interested in learning more, give Gremlin Works a shout.